Rd. 2 Road Atlanta
Atlanta was a nightmare.
The RS-R Scion tC was down the entire weekend.
For Friday's seeded group practice, we had electrical issues and the car did not make any power. If it did, as soon as I induced a drift the engine would fall on its face.
That night, we noticed that the ecu in the car was not originally for a 3SGE motor. Believe it or not, it was running off of a VQ35 ecu. This has got to be one of those mistakes that can't be helped but to brush it off and make sure it never happens again. When you are on the verge of getting the car ready for a race in a very short amount of time, mistakes like that can happen.
There is no one to blame for this, but to make sure we have the right parts on the right cars. Besides, it's only our second event with the car. You can say we are still in the process of shaking down the car to get all the bugs out.
Friday night, JW managed to pull out a resistor from a home theatre DVD player. Yes, a DVD player saved our night. Gary had this brilliant story of his technique of remembering resistor codes. You HAD to be there. =)
(Thank you JW, you never let me down)
That night, I was able to sleep... Kind of..
I woke up the next morning ready to kick ass and perform to my best.
BUT....
during the last practice session before qualify, we blew the clutch.
=(
One problem after another. I guess the car wasn't in the mood to go drifting.
So here I am looking very sad.
We are going to have another test session before Rd. 3 Englishtown.
Even though we are still in our first year of developing the RS-R Scion tC, I want to win. I want to get on the podium.
On the brighter side, a friend of mine who I worked with during the Forza Motorsports Showdown show, Chris Bartram came to visit me. It was nice seeing him. We had time to chat and catch up. =)
And another faithful fan of mine once again made a sign for me. Soul-kun!! Thanks! you are always there to support me!
And to the rest of the fans, Thank you! Sorry to let you guys down this time! but I promise next time, Ill make it to the VERRRRYYY top.
Jasper and Yo from the Rogue Status team were there too. Man! They were giving out free t-shirts. If i was in the crowd, I would have gone berserk!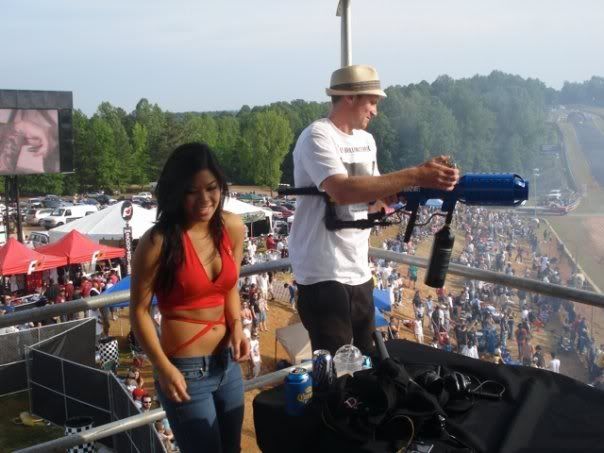 Its always a good time with them. Thanks for the support guys!
oh before I forget, Check out what i got from them.
Its awesome. Get one. and Rock it.
you can go to www.roguestatus.com
See you guys!